---
Pre-Requisires
Test & Enrich
Mensuration | Speed Notes
Notes For Quick Recap
---
Perimeter: Length of boundary of a simple closed figure.
Perimeter of Rectangle = 2(l +b)
Perimeter of Square = 4a
Perimeter of Parallelogram = 2(sum of two adjacent sides)
Area: The measure of region enclosed in a simple closed figure.
Area of a trapezium = half of the sum of the lengths of parallel sides × perpendiculardistance between them.
Area of a rhombus = half the product of its diagonals. (Scroll down to continue …)
Study Tools
Audio, Visual & Digital Content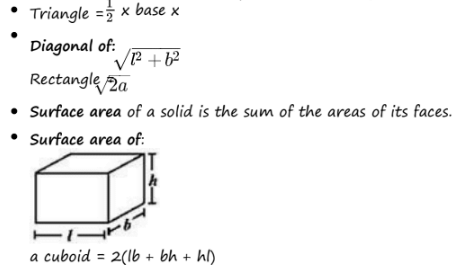 Dig Deep
Topic Level Resources
---
Sub – Topics
Select A Topic
---
Topic:
Chapters Index
Select Another Chapter
---
Assessments
Personalised Assessments